How Your Credit Scores Are Calculated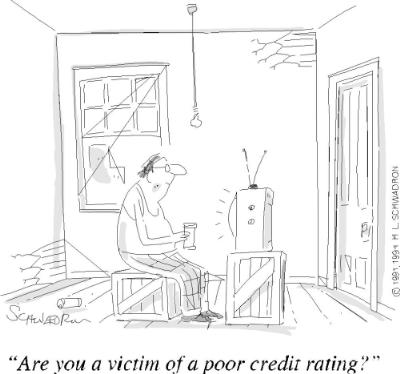 What You Need To Know
Along with credit reports, lenders can also buy your credit score based on the information in the reports. That score is calculated by a mathematical equation that evaluates many types of information that are on your credit report at that agency. By comparing this information to the patterns in hundreds of thousands of past credit reports, the score identifies your level of future credit risk.
FICO® scores are the credit scores most lenders use to determine your credit risk. You have three FICO scores, one for each of the three credit bureaus: Experian, TransUnion, and Equifax. In order for a FICO® score to be calculated on your credit report, the report must contain at least one account which has been open for six months or greater. In addition, the report must contain at least one account that has been updated in the past six months. This ensures that there is enough information - and enough recent information - in your report on which to base a score.
Credit scores are calculated from a lot of different credit data in your credit report. This data can be grouped into five categories as outlined below. The percentages in the chart reflect how important each of the categories is in determining your score.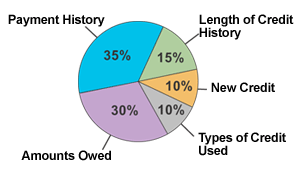 Chart Breakdown
Payment History:



Account payment information on specific types of accounts (credit cards, retail accounts, installment loans, finance company accounts, mortgage, etc.)

Presence of adverse public records (bankruptcy, judgements, suits, liens, wage attachments, etc.), collection items, and/or delinquency (past due items)
Severity of delinquency (how long past due) Amount past due on delinquent accounts or collection items
Time since (recency of) past due items (delinquency), adverse public records (if any), or collection items (if any)
Number of past due items on file
Number of accounts paid as agreed



Amount Owed:



Amount owed on accounts
Amount owed on specific types of accounts
Lack of a specific type of balance, in some cases
Number of accounts with balances
Proportion of credit lines used (proportion of balances to total credit limits on certain types of revolving accounts)
Proportion of installment loan amounts still owing (proportion of balance to original loan amount on certain types of installment loans)



Length of Credit History:



Time since accounts opened
Time since accounts opened, by specific type of account
Time since account activity



New Credit:



Number of recently opened accounts, and proportion of accounts that are recently opened, by type of account
Number of recent credit inquiries
Time since recent account opening(s), by type of account
Time since credit inquiry(s)
Re-establishment of positive credit history following past payment problems



Types of Credit Used:



Credit cards
Retail accounts
Installment loans
Mortgage loans
Consumer finance accounts

Tips on Improving Your Credit Scores
Don't Be Late. Missed payments are the single biggest killer of credit scores. Your past behavior, late or missed payments, foreclosures, bankruptcies, etc. counts for one-third of your credit score. Be sure you pay those bills on time.


Pay Down Balances. Paying down balances is a quick fix. One-third of your credit score is based on the amount you currently owe in relation to your credit limit. Try to keep your balances at 50% or less of your credit limit.


Keep Old Credit Lines Open. Another 15% of your score comes from how long you've been managing credit. Closing old accounts shortens your credit history and lowers your score. Lenders also take into account the average age of your accounts, so an older account can help balance newer credit.


Limit New Credit. Take on new credit only when you need it. New credit can hurt your score twice. For starters, new inquiries for credit count for 10% of your score — and a flurry of new credit requests can lower your score. Also, once a new credit line is secured, the average age of your accounts will shorten, which in turn can drag down your score even more.