VA Education Benefits

Choose the VA Education Benefit Which is Best for You:
Which benefit pays you more? Normally, you will receive more money under the Post-9/11 GI Bill, but that will not always be the case.


What type of training do you want to pursue?


Where will you be living when you attend college or special training?


In some states veterans do not have to pay tuition at selected state colleges. The Post-9/11 GI Bill may then pay only the housing benefit and the book stipend.


Is the time frame to utilize benefits important to you? Benefits under Post 9/11 Bill are available up to 15 years, while the Montgomery Bill benefits are available up to 10 years.


Once you make your choice of plan, you can not change your mind.


You will find a summary of VA Education benefits below. Detailed information is on the VA GI Bill Website.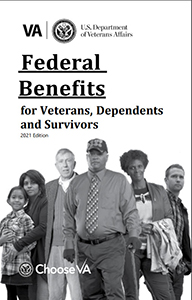 Veterans Handbook
You may be an eligible veteran if you got an Honorable Discharge, AND you have a High School Diploma or GED or, in some cases 12 hours of college credit. The monthly benefit paid to you is based on the type of training you take, length of your service, your category, and if DOD put extra money in your MGIB Fund (called "kickers").
Institutional Training

Training Time

Monthly Rate (10/1/2017)

Full time

$1,928.00

¾ time
$1,446.00
½ time
$964.00
¼ time or less
$482.00
Apprenticeship and On-Job Training

Training Period

Monthly Rate (10/1/2017)

First six months
of training
$1,446.00
Second six months
of training
$1,060.40
Remainder of training
$674.80
Buy-Up (Kicker) Benefit
Persons currently on active duty can contribute (to their military branch) in increments of $20 up to $600. If you are on active duty, you need to contact your Education Services Officer. A contribution of $600 would increase your monthly benefits by $150 for full time training. Veterans who select to use the Post-9/11 GI Bill are not eligible to use the Buy-up benefit, even if they already paid into it.
Currently the VA does not have a way to interface with the US Department of Defense to verify service members who pay the $600.00 additional contribution. The VA requests each service member who paid this contribution to submit a xeroxed copy of the following:


DD Form 2366


Copy of LES's - if deductions are payroll deducted


DD Form 1131 - Cash Voucher if paid cash in full

These documents provide proof to the VA that the $600.00 was paid and allows them to process your claim to include the kicker.
Top-Up Benefit
The VA has a program for people on active duty to use their GI Bill in conjunction with tuition assistance. The program "Top-Up," allows the VA to pay you the difference between the total course cost and the cost covered my your service department, up to the maximum rate.
For example, if you were enrolled in a one month course that was considered full time and the total course cost was $1500, and the military was paying $1000, the VA could pay the difference, $500. The VA could pay that amount because the $500 is less than the maximum rate payable to a veteran, $900. If the same course Was $1500 and the service department was only paying $100, the most the VA could pay would be $900, the maximum rate payable to the vet. The VA pays whichever one is less. If you are getting 100% TA for a class, you would not be eligible for Top-Up for that class. Top-Up does reduce your GI Bill entitlement.
If you have never applied for the GI Bill, you will have to apply for the GI Bill to use Top-up. If you have a claim for Top-Up to submit, you can send your APPROVED application for tuition assistance with your application. If you have already applied for benefits, you can just submit the approved application for tuition assistance to the VA office that last handled your claim.
The Post-9/11 GI Bill provides financial support for education and housing to individuals with at least 90 days of aggregate service after September 10, 2001, or individuals discharged with a service-connected disability after 30 days. You must have received an honorable discharge to be eligible for the Post-9/11 GI Bill. Your decision to apply for a certain education benefit could impact your eligibility for other benefits. Here are a few factors to keep in mind:
If you're eligible for more than one education benefit, such as the Post-9/11 GI Bill and the Montgomery GI Bill, you must choose which benefit to receive, a decision that's final and cannot be changed.


If you're eligible for the Post-9/11 GI Bill and two or more additional education benefits, you must give up one of the additional education benefits. However, you may remain eligible for the benefit or benefits you did not give up.


Post 9/11 GI Bill – Transferring Benefits to Dependents
Eligibility? Any member of the Armed Forces on or after August 1, 2009, who is eligible for the Post-9/11 GI Bill, and has at least 6 years of service in the Armed Forces on the date of election and agrees to serve 4 additional years.


What can be transferred? Up to the total months of unused Post-9/11 GI Bill benefits, or the entire 36 months if none used.


A family member must be enrolled in the Defense Eligibility Enrollment Reporting System (DEERS) and be eligible for benefits, at the time of transfer to receive transferred educational benefits.


A subsequent divorce will not affect the transferee's eligibility to receive educational benefits; however, after an individual has designated a spouse as a transferee under this section, the eligible individual retains the right to revoke or modify the transfer at any time.


How Do I Get Started?